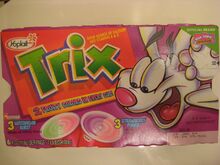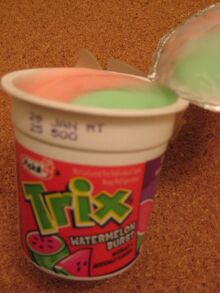 (First of three parts) Do not be fooled by General Mills Yoplait Trix Lowfat Yogurt. Several of this product's ingredients, including its sugars (disguised with various names) and artificial colors, are dangerous.
Also disconcerting is its residence in the seemingly healthy neighborhood of supermarkets' yogurt sections, which leads parents to believe that they are doing right in feeding this to their children. In reality, this product's existence is akin to the worst fraud perpetrated by any Wall Street executive.
Traditionally, yogurt is the product of introducing a bacterial culture into milk. Yoplait Trix, however, is more criminal than traditional. How else to explain the absence of any fruit in the six flavors I encountered (Watermelon Burst, Strawberry Punch, Strawberry Banana Bash, Raspberry Rainbow, Wildberry Blue and Triple Cherry)? And the marketing claims that there are "2 FRUITY COLORS IN EVERY CUP!" and that "Twice the color means twice the fun!"?
One package is comprised of six 4-ounce cups. Three cups are one flavor, and the other three cups are a second flavor. I examined the ingredients of the six flavors and was surprised to learn that the contents were constant for all six, with only two small exceptions. The Triple Cherry did not contain artificial flavor and the artificial colorants varied slightly for three of the six. Huh? Yes, the ingredient lists for the Strawberry Punch, Raspberry Rainbow and Wildberry Blue are exactly the same: Cultured Pasteurized Grade A Low Fat Milk, Sugar, High Fructose Corn Syrup, Modified Corn Starch, Kosher Gelatin, Citric Acid, Potassium Sorbate Added to Maintain Freshness, Natural and Artificial Flavor, Red #40, Blue #1, Vitamin A Acetate, Vitamin D3.
(Tomorrow: Opening a container of Watermelon Burst)